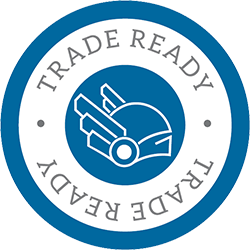 Become Trade Ready
How can companies and exporters increase their sales locally and internationally?
Trade Ready is a specialized service offering from LCI, working closely with companies and exporters, aiming at increasing their sales, managing their receivables in a better manner and mitigating their risks, both domestically and in foreign markets.
In order to trade safely in local and international markets, certain documents, procedures, insurance policies, and regulations need to be in place.
What should you do to increase sales & exports?
Increasing sales and exports, or whether you are looking to start exporting for the first time, requires strategic planning. LCI, a driving force in international trade facilitation, has over 20 years of experience working alongside SMEs to help them achieve growth.
To increase sales effectively and securely, companies and exporters are advised to:
Enhance internal processes and documentation, to adhere to international standards
Implement effective credit management systems, to invoice clients and collect receivables on time
Insure their trade receivables, with credit insurance policies (click here, to explore LCI's Trade Protect offerings)
Collect bad debts, in a timely manner, and take necessary precautions to protect their biggest asset – their trade receivables
Adhere to international standards, in terms of quality of products, invoicing procedures and local laws and regulations
Trade Ready, by LCI Services, provides the following services to companies from all sectors and industries:
Trade / export strategy creation and implementation
Trade compliance procedures
Trade documentation
KYC & Buyer background check
Market identification and local support
Export documentation
Risk assessment
Risk mitigation
Which sectors (companies and SMEs) can become Trade Ready?
FMCG (supermarkets, wholesalers, distributors etc.)
Food & beverage
Travel agents
Traders – jewelry, wood, precious metals & stones
Plastic manufacturing & trading chemicals
Packaging
Pharmaceuticals
White goods & home appliances
Printing houses
Furniture & home accessories
The 'Trade Ready' check list
How 'Trade Ready' are you? Here is a list of the required sales & export documents & procedures.
Invoicing & documents: Commercial invoices & procedures need to be in place, with terms clearly defined and communicated.
Issuing Invoices: Are your invoices issued on time? How do you track outstanding receivables and follow up with clients? Clear procedures need to be put in place.
Payment: Ensure you get paid for the products & services you supply, by having proper invoicing procedures, payment terms and trade credit insurance cover.
Export & Import regulations: Each market has a different set of export and import regulations. Are you aware of the local regulations?
Partners: Have you identified how the products will be shipped to foreign markets? Strategic partnerships with credible freight forwarders & shipping companies are advised.
Incoterms: Are you aware of the Incoterms used in sales contracts? Incoterms are international rules, identifying the responsibility of both the seller and buyer, developed by the International Chamber of Commerce (ICC).
Export paperwork: Paperwork is required to accompany every shipment to a foreign market. Certain terms and information are needed to be mentioned on every exported shipment.
Product: Which products will you be selling? Is there a market for them? Identification of products to sell, based on target market demand is integral to start with.
Markets: Which markets should you sell to? Do you understand the regulations and risks tied to each market?
Pricing: Will the products be sold at the same price in all markets? Or will a tailored pricing strategy be used?
Sales strategy: What is your go-to market strategy? Will you be selling online, through local distributors or through partners?
Product labelling requirements: Every market has a different set of product labelling requirements. Ensuring the correct labelling will allow you to expand your sales.
Packaging: Are the products packaged in adherence to the markets which you are exporting to?
Certificate of origin: For specific items, certificates of origin are required, for them to be sold.
Trade Ready