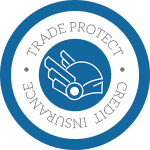 Trade Protect
How does Trade Credit Insurance work?
Trade Credit Insurance protects your company's biggest asset; its trade receivables. Solutions are tailored to business needs and offer a simple and cost-effective way to ensure that your company gets paid for the goods and services it supplies, by other companies (Business to Business – B2B). It helps in protecting your business, expanding your company's reach, drives profitable growth and helps you manage risks and avoid losses.
Trade credit insurance, explained
Trade Protect covers suppliers (the manufacturers, trading companies and providers of services) against the risks of non-payment of their account receivables with local and foreign buyers (Customers).
What does Trade Credit Insurance cover?
Also known as trade receivables insurance
Business to business commercial transactions (B2B)
Covers short-term commercial credit (up to 180 days)
Covers commercial risks: protracted default & insolvency
Benefits of trade credit insurance
Additional Cover
Trade credit insurance, defined, is when a company covers its risks when dealing with local or foreign buyers. There are many risks involved and many can be avoided with the right market intelligence and the optimal trade credit insurance policy.
As such, LCI also extends cover for additional endorsements, political risks and pre-shipment risks.
This related to protecting exporters from financial loss due to political events such as war, terrorism, transfer risks, etc.
This protects against the losses that may occur during the production period prior to delivery. These losses can be a result of the buyer not fulfilling his end of the contract due to bankruptcy or insolvency.
This covers the sales of vehicles or machinery to corporates on monthly installments over a period not exceeding 36 months.
Products